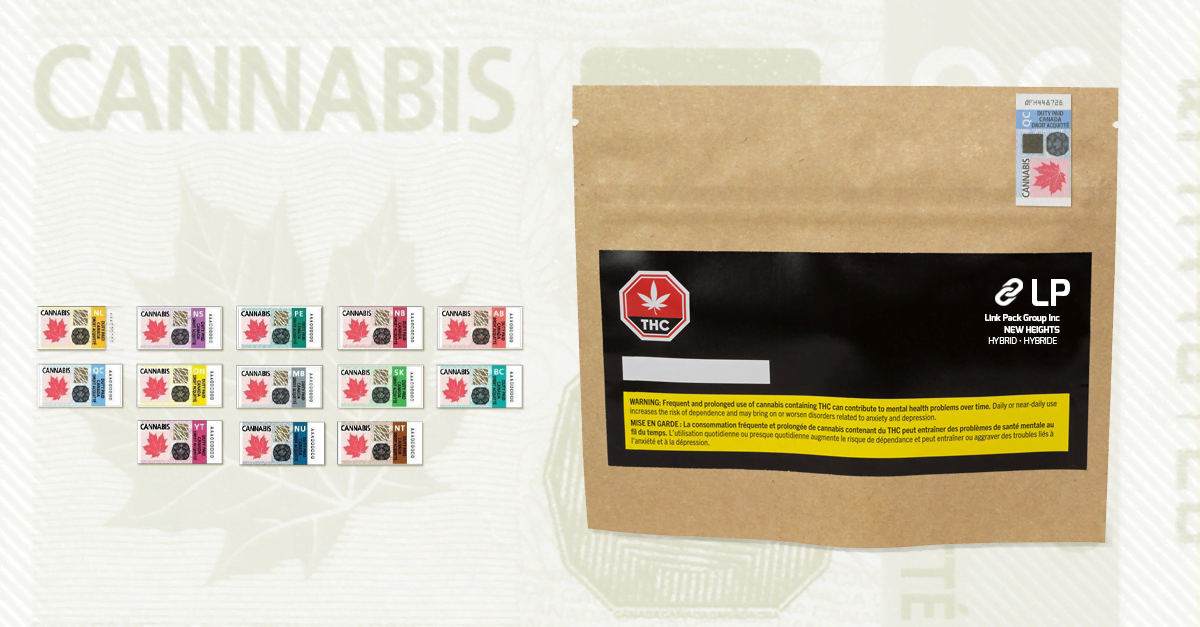 About Cannabis Excise Stamps
Cannabis excise or tax stamps are government-issued stamps created using security papers and embedded codes or serial numbers and must be applied to cannabis packaging. They prove that the cannabis sold has been legally produced and that producers have paid the CRA (Canada Revenue Agency). The Canadian Federal Government requires that ALL cannabis products carry an excise stamp, while only a handful of US states do – New Mexico is one example.
There is only one authorized stamp provider in Canada, and licensees must register with the CRA to order their pre-glued or glueless tax stamps online, in batches of 500. Needless to say, ordering is a cumbersome process and can cause delays, much to the dismay of numerous LP's.  
Under most insurance policies, excise stamps are usually considered "money & securities" instead of "stock," so we recommend ensuring you have appropriate coverage for any lost or damaged excise stamp stocks. Cannabis licensees are responsible for safeguarding their acquired stamps and face stiff penalties if lost, damaged, or unaccounted for.
Why Cannabis Packaging and Labeling Regulations are Necessary
Cannabis product labels contain a great deal of information; the regulations in Canada and the US prescribe what, where and how information must appear on the label of all cannabis products. The regulations in place, for the most part, aim to make the labels easily understandable, less attractive, or appealing to youngsters, to make health warnings more prominent, and provide users with accurate and specific cannabis information and proper use instructions.

Cannabis Packaging and Labeling in Canada
Cannabis labeling requirements in Canada dictate how cannabis products such as flowers, gummies, topicals, etc. must be packaged and labeled before sale. Legal cannabis producers also known as LP's (licensed Producers) must comply with legislation under the Cannabis Act and Cannabis Regulations. Health Canada publishes other guidance documents and information to support LP's compliance with the Act and its regulations.
Cannabis Packaging and Labeling in USA
The US has FDA regulations mandating certain information, package types, and security of the label or package however, many states have their own Food, Drug and Cosmetics Acts or regulations from its departments of agriculture or other regulatory bodies which impact packaging and/or labeling. The council on responsible cannabis regulation has compiled a handy labeling recommendations white paper for US cannabis packaging and labeling developed by a multi-disciplinary stakeholder Committee.
Cannabis Excise Stamp Labeling Systems
Excise stamp application must be placed prominently on the packaging, seal the package, be broken yet remain affixed upon opening. Tax stamp labeling equipment is designed to keep your production consistent, efficient, and safe. Ensuring a precise and secure application to multiple types of cannabis pouches or containers and answer to these operational challenges.
Link-Pack offers a range of Tax Stamp Labeling Systems for application in various stamp positions for pouches, bottles, jars, and tins. Licensees may opt for linear or rotary machinery depending on the type of packaging and output required.

Linear Tax Stamp Labeling Machine
Tax Stamp Labeling Machines are some of the most sought-after in the cannabis, tobacco, and spirits industries. They guarantee an efficient labeling process and perfect positioning on multiple pouch or container sizes unattainable with manual operations. This labeler provides vertical or horizontal tax stamp labeling for the most common pouch sizes used in the industry. Our labeling machinery can also be fitted with sensors to detect missing labels and a reject chute to remove unlabeled products from the line. Our Linear Tax Stamp Labeling Systems are used in line with existing machinery or manually fed off-line to run pressure-sensitive excise stamps. Their compact design, straightforward functions, quick changeovers, and low maintenance provide maximum efficiency.
Rotary Tax Stamp Labeling Machinery
Link-Pack distributes Gernep Rotary Labelers, which offer higher outputs for larger-scale operations. Gernep's Soluta offers an array of labeling configurations to suit your cannabis labeling requirements and runs pre-glued pressure-sensitive labels  in rolls.  For additional savings, Gernep's Labetta will apply glueless excise stamps using a combination of cold-glue and hot melt technologies. These customizable Labeling Systems provide the flexibility to combine labeling technologies for PS (pressure-sensitive), Hot Melt, and Cold Glue applications in multiple labeling stations to apply body labels and excise stamps labels to products on one machine. Variable information printers for THC and CBD levels, lot number or barcodes, and vision systems to validate label presence and information are part of the options available to personalize these high-performance labeling systems further.
Cannabis Excise Labeling Success
The cannabis industry is rapidly evolving and succeeding at packaging and labeling will rely heavily on keeping up to date with changes to legislation that affect your operations and sourcing the right equipment to streamline production. Building relationships with field experts will provide the tools essential to continuous improvement and growth.
At Link-Pack, we partner with licensed cannabis producers to provide a real needs analysis to evaluate and recommend the best equipment to enhance your cannabis product packaging line. We also offer customizable solutions and integration services, so your automated operations grow with you at your speed – because your success is also ours!