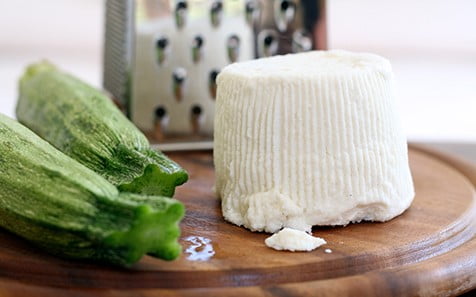 Packaging solutions for the cheese industry
Our focus in the cheese industry is to offer complete or stand-alone packaging solutions for fresh cheese products packed in rigid plastic containers and shredded/grated cheese packed in bags and pouches.  We are offering solutions for both primary packaging (rigid and flexible packaging) and secondary packaging (cartons, cardboard sleeves, cases, bags) as well as product inspection and container decoration.

Rigid Plastic Packaging for cheese
Plastic tubs are very popular for fresh cheese packaging and we have a wide array of automated packaging systems for cheese and dairy products.
For any soft cheese that can be pumped, like cream cheese, cottage, mascarpone, cheese dips, our DV1000 and DV2000 Volumetric Piston fillers are perfectly suited to accurately fill your products at cycles up to 60 tubs/cups per minute per lane.
The packaging process of soft fresh cheese such as cream cheese, cottage, ricotta, mascarpone, fromage blanc or cheese dips typically requires a heat-sealed film before a plastic lid is applied.  Our model PL500 rollstock film heat-sealer can be integrated to all our cup and tub filling lines.
For brined Cheese & Semi-soft Fresh Cheeses like Feta, Halloumi/Hellim, Bocconcini and Mozzarella di Bufala, it is most common to see plastic container with tamper-evident lids.  Model FDS2500 is one our best selling food packaging machine for cheese, this fully automated packaging line will denest tubs, index the tubs to fill station and apply tamper-evident lids.
Our automatic tub packaging lines can be used for any other dairy products, whether liquid, semi-viscous, viscous, cubes, blocks, crumbs, curds or powder.  We simply adapt the type of filler to your product.  Here are a few examples of filler that were previously integrated to our FDS Series of tub filling lines: Linear belt vibratory weigh filler (blue cheese crumbs), linear scales (grated parmesan), combination scales (bocconcini), auger fillers (milk powders), liquid fillers (mascarpone), volumetric cup fillers (cheese cubes).
We understand that every customer has specific needs, and we are always open to adapt our equipment for you.  Versatility is a key feature of our tub filling lines, and it is possible to run several products with the same machinery.

Flexible Packaging for cheese
While grated and petal cheese products are often sold in rigid plastic containers, the most common packaging for shredded cheese are bags and pouches, also referred to as flexible packaging.
Shredded cheese baggers can be classified in 3 main categories: Vertical Form-Fill-Seal Baggers (VFFS), Horizontal Form-Fill-Seal Baggers (HFFS) and Pre-Made Pouch Baggers.  To keep it simple, we can say that VFFS baggers and HFFS baggers are forming the bags from rollstock just before the shredded cheese is packed into it.  Pre-made pouches (with or without gussets) are made by a converter and delivered to you with one end open and the machinery will simply handle the pouches and seal them.
All our VFFS baggers for cheese and HFFS baggers for cheese can be offered to meet USDA and 3A sanitation standards.
Pre-made pouch baggers are typically easy to operate and provide more flexibility for cheese processors running several size and style of bags.  VFFS baggers for cheese are relatively fast, and a very good solution to run pillow bags, but also gusseted and flat bottom bags.  HFFS are meant for long run production and they can be faster and allow more flexibility for pouch styles and size.
Depending of the product(s) you need to fill in the bags, we will integrate the best scale or filler type.  Cheese is sensible to air contact, so it is important to have a well integrated system to bring down to a minimum the residual oxygen in your bags.

Labeling of plastic tubs
While there are more and more tubs and cups that are decorated with in-mold labels (IML), many cheese processors are still requiring labeling equipment for their tubs.  Whether your need is for primary decoration of plastic tubs, like wrap label, front-and-back label or top and bottom labels, we have the perfect pressure-sensitive labeler for deli tubs.  If your need is for a promotional label on the lid or side of the container, we have mobile and small footprint stand-alone labeler that will do the trick.

Cheese Products Inspection
Cheese product inspection can take different forms, whether it is upstream with fall through metal detector for shredded cheese, pipeline x-ray inspection for processed cheese or finished package inspection.  We are offering an impressive range of inspection equipment for cheese, and our strength remains our combination units where we can have Combination X-ray and Checkweighing Systems and Integrated metal detection, label inspection with checkweighing system.
Multi-packs and club packs
Many cheese processors need to combine two or more packs in order to sell into club stores. Link Pack offers many solutions, such as stacking and shrink sleeving tubs, wrap-around cardboard sleeving for cups or tubs, cartoning and two-bags welding.  Whether you are a co-packer or cheese processor, we have versatile solutions for multi-packs and club packs.
Robotic Case Packers
We can offer fully integrated end-of-line systems or stand-alone units such as case erector, robotic packers and case sealers.  However, in recent years the faster output of packaging lines coupled with shortage of labor has seen a significant rise in demand for automated robotic case packers.  Offering market leading brands such as Fanuc and Kuka, the robotic case packers are customized to your needs.

Robotic Palletizers
Robotic arms combined to product handling knowledge allows for several configuration of robotic palletizer systems.  In addition to their dependability, robotic palletizers will eliminate injuries to your valuable employees and their associated cost.  Robotic palletizers provide a high level of pallet pattern versatility and can be adapted to most products by using vacuum, clamps or grippers.
Basic robotic palletizers will take pallets from a stack and place it in the dock area, pick RSC, HSC or bags from a single packaging line and place it on pallets.  Tier sheet can also be placed between rows and the system is protected by a combination of interlock guarding and light curtains to protect your operators.  More advanced systems can be offered to palletize boxes, pails or bags coming from two different packaging lines on two different pallets.  In addition, all-in-one case packer/palletizer system can perform all end-of-line operation in a single cell, thus saving floor space and potentially cost.