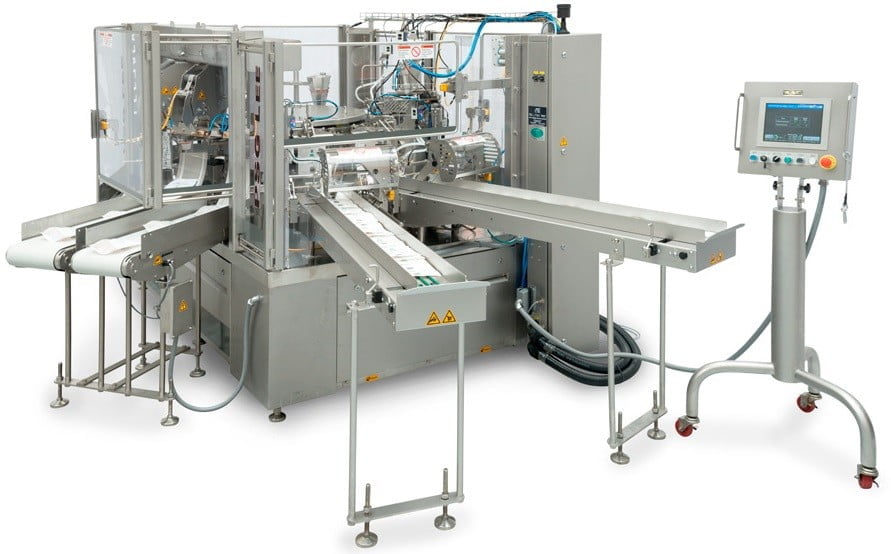 PPi Technologies releases redesigned Duplex Pouch Bagger
PPi Technologies and Leepack recently released a redesigned version of their market-leading Duplex Bagger for premade stand-up pouches.
New features to make faster and easier changeovers have been added to a proven design, making this machine more versatile than ever.  Unique features like gripper width adjustment from the HMI, positive zipper opening device and servo-driven bottom gusset opening are only a few of the features of the bagger.  All mechanical adjustments are referenced in the HMI and dial indicators facilitates repeatable set-ups.
The PSG LEE Duplex Bagger is a great solutions for manufacturers and co-packers of dry and liquid products.  Indeed, with the proper configuration, this bagger can run standard stand-up pouches with zippers or corner-spout pouches.
Currently used by hundreds of customers across North America, all PSG LEE Baggers features Allen Bradley PLC and PLUM (Packaging Line Under Management) at no extra charge.  PSG LEE Baggers have been collecting data for many years and before "Industry 4.0" became a buzzword.
In addition, all end-users have access to DocSource, a portal with 24/7 access to operations manual, drawings, electrical schematics and parts purchased history.
For specifications and video of model RD-314, please click: https://link-pack.com/portfolio-item/duplex-pre-made-pouch-bagger/