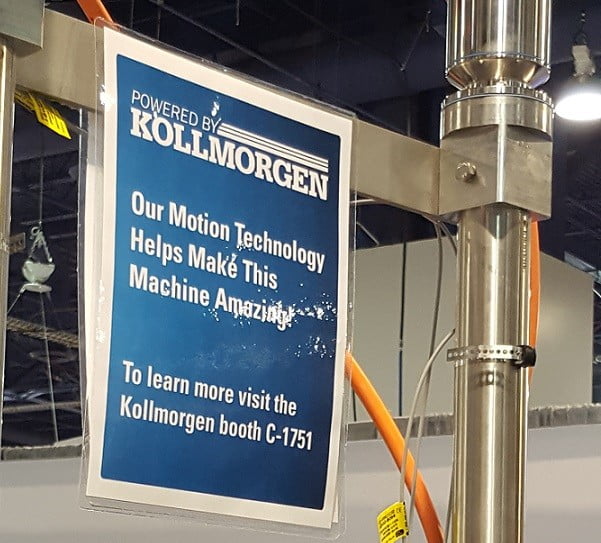 New servo sealing module on cup filling systems
The latest version of model FDS2500 Filling, Sealing & Lidding Machine for pre-made containers features a servo-driven film sealing station.
Indeed, two Kollmorgen Stainless Steel AKMH Series servo motors replaced air cylinders which results in several benefits for machine users.
Easier changeovers made directly from the touch screen
Repeatable height and speed adjustments because parameters are memorized
Increased speed of sealing operation, which is typically the bottleneck on this machine
Cleaner/more hygienic design by removing pneumatic hoses
Model FDS2500 with integrated PL500 Sealing Module is an automatic, single-lane machine to fill, seal (with or without gas flush) and apply lids to various sizes and shapes of pre-made containers.  The machine can handle cups, tubs, trays, buckets and small pails and is known for its extreme versatility and quick changeovers.  The same system is also available in two lanes and three lanes execution.
About Control GMC
Founded in 1984, the company is proudly manufacturing all its equipment in Montreal, Canada.  Very well-known in the refrigerated food industry, Control GMC is rapidly expanding into other segments such as dairy, hummus, dips, fresh soup, spices, nuts and dried fruits.
Feel free to contact us today to set-up a meeting.  link-pack.com/contact