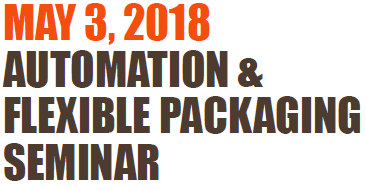 Automation & Flexible Packaging Seminar 2018
ENGLISH BELOW
Groupe Link Pack et son partenaire PPi Technologies Group tiendront la 4è édition de leur séminaire technique "Automation & Flexible Packaging" le 3 mai 2018 au Palais des Congrès de Montréal.
Si vous considérez emballer vos produits alimentaires dans des sachets, stick packs, sacs stand-up ou d'autres types de sacs, ce séminaire vous donnera le poul du marché, autant pour le matériel d'emballage que pour les équipements.  Des professionnels de l'industrie seront sur place pour des discussions individuelles en marge du séminaire.
Groupe Link Pack offre des solutions clé en main pour l'emballage en sachets, sacs et sacs grands formats.  Nous intégrons des équipements de conditionnement, d'inspection, de mise en cartons/caisses et de palettisation pour tous les types d'emballages flexibles.
Nos partenaires manufacturiers
Aranow – Ensacheuses pour emballages individuels en sticks ou sachets
Concetti – Ensacheuses et palettiseurs pour produits secs en sacs de 1kg à 1000kg (big bags)
Control GMC – Remplisseuses volumétriques à piston pour produits liquides ou avec morceaux
Leepack/PSG LEE – Ensacheuses pour sacs pré-formés de type "stand-up"
PPi Technologies Group – Solutions complètes pour l'emballage en sacs (machinerie, co-packing et design d'emballages)
SN Pouch Pack Technology – Ensacheuses horizontales Form-Fill-Seal pour production à haute cadence
Triangle Package Machinery – Ensacheuses verticales Form-Fill-Seal pour sacs "pillow", doypack et autres
N'hésitez pas à nous contacter pour recevoir votre invitation gratuite.  link-pack.com/contact
---
Link Pack Group and its partner PPi Technologies Group will held the 4th Edition of their Automation & Flexible Packaging Seminar on May 3 at Palais des Congrès in Montréal.
If you are considering flexible packaging such as sachets, stick packs, pouch or bags for your food products, this seminar will highlight the current market and industry trends for packaging and machinery solutions.  Industry professionals will also be available after the seminar to discuss your projects one-on-one.
Link Pack Group offers turn-key systems for packing products into stick packs, pouches and large bags.  We integrate filling, bagging, inspection, secondary packaging and end-of-line machinery for all types of flexible packaging.
Our OEM Partners for Flexible Packaging
Aranow – Multi-lane baggers for single-serve packs in the form of stick packs or sachets
Concetti – Baggers and palletizers for bags of 1kg to 1000kg (big bags)
Control GMC – Volumetric Piston Fillers for thick liquids, liquids with chunks or prepared salads
Leepack/PSG LEE – Baggers for pre-made stand-up pouches
PPi Technologies Group – Complete Flexible packaging solutions (machinery, co-packing & packaging design)
SN Pouch Pack Technology – Horizontal Form-Fill-Seal baggers for high-speed operations
Triangle Package Machinery – Vertical Form-Fill-Seal baggers for pillow, stand-up pouches, 3-sided seal bags
Contact us today to register to be part of this must-attend event.  link-pack.com/contact