HFFS & VFFS are horizontal and vertical types of form-fill-seal machines commonly employed in the food packaging industries. Not to be mistaken with flow wrappers or horizontal FFS mainly used to pack products such as chocolate bars and similar products.
At first HFFS machines were used mainly for simple packaging like sachets for a long time, but they have evolved into manufacturing more complex bag types with gussets, zippers, or spouts. They may be employed for aseptic packaging, where the film and fitments (if applicable) are treated with hydrogen peroxide before filling. 
The VFFS machine evolved from mainly producing pillow bags to more complex systems capable of producing quad seal bags, 3-side seal bags, and stand-up pouches with zippers.
Both HFFS and VFFS systems can run powdered, granular, or liquid products such as shredded cheeses, confectionery products, and more, and both systems seal various types of film with heat or ultrasonic jaws. 
Differentiating HFFS & VFFS
The key differentiating factors between HFFS and VFFS are speed, bag complexity, and to some extent, quality of the bag's finish or look. While many crossovers exist in the bag types produced by either technology, some are better produced by a specific machine type. For example, VFFS cannot form corner spout bags, and it is impossible to form quad seal bags for coffee on an HFFS.
Horizontal Form-Fill-Seal machines require larger floor space and are ideal for running high speed packaging applications. They grant manufacturers the opportunity to form various pouch shapes using die cutters and to apply center or side spouts, commonly used for drinkable dairy products products requiring ultraclean or aseptic processing. They are optimal for packaging foods, pharmaceuticals, cosmetics, pet foods, confectionery, and chemicals.
Vertical Form-Fill-Seal Machines  are best suited to restrained floorspace and frequent packaging changeovers. They are ideal for packing produce (salad leaves), cereal (bag in box), meats, and poultry. Their simplified design constitutes an easier and faster system to clean, provided they are built to meet the highest sanitary standards, such as 3A.
The NEW Compact HFFS
For the first time, there is a new German engineered "Plug and Play" Form-Fill-Seal machine bordering on the compactness offered in a VFFS format but in a horizontal footprint, with the  versatility & superior packaging quality reminiscent of HFFS models.
The FME 50 offers a quick and easy entry into the world of flexible pouch packaging and the manufacture of multiple types of flexible pouches from regular or recycled rollstock including 3 or 4-sided sealed pouches, stand-up pouches and gusseted pouches for dry products. It also has a surprisingly low energy consumption for added savings!
See the FME 50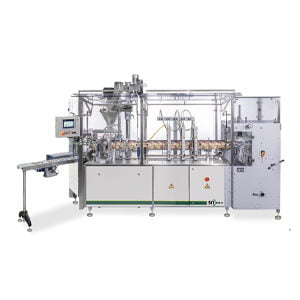 Not sure which one is right for you? Talk to our experts!