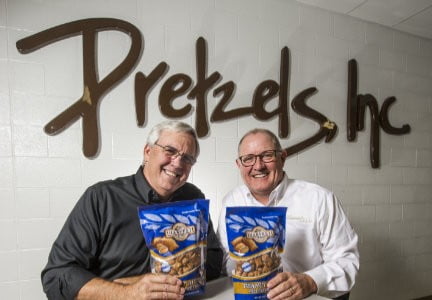 Pretzel's Inc. – From disaster to startup in record time
When asked to flash back to June 4, 2016, William "Chip" Mann II replied, "Let's not," rolling his eyes while shaking his head. That's the day when he received a text at 6:20 a.m. from Pretzels, Inc.'s plant supervisor in Canonsburg, Pa., that simply said, "We have a fire. Everybody is out of the building."
Mr. Mann, who serves as co-chief executive officer along with longtime friend Steve Huggins of the Bluffton, Ind.-based snack producer, eventually took some solace that the Canonsburg disaster could have been much worse.
"The fire happened very fast, but everyone was safe and got out quickly, and that's the most important thing," he said.
For several years, Pretzels, Inc., had steadily built up its peanut butter filled-pretzel business, and the Canonsburg facility was the only place where it produced such snacks.
Full article in Baking & Snack explaining how a pretzel manufacturer managed to startup a new manufacturing facility withing 9 months after a devastating fire.