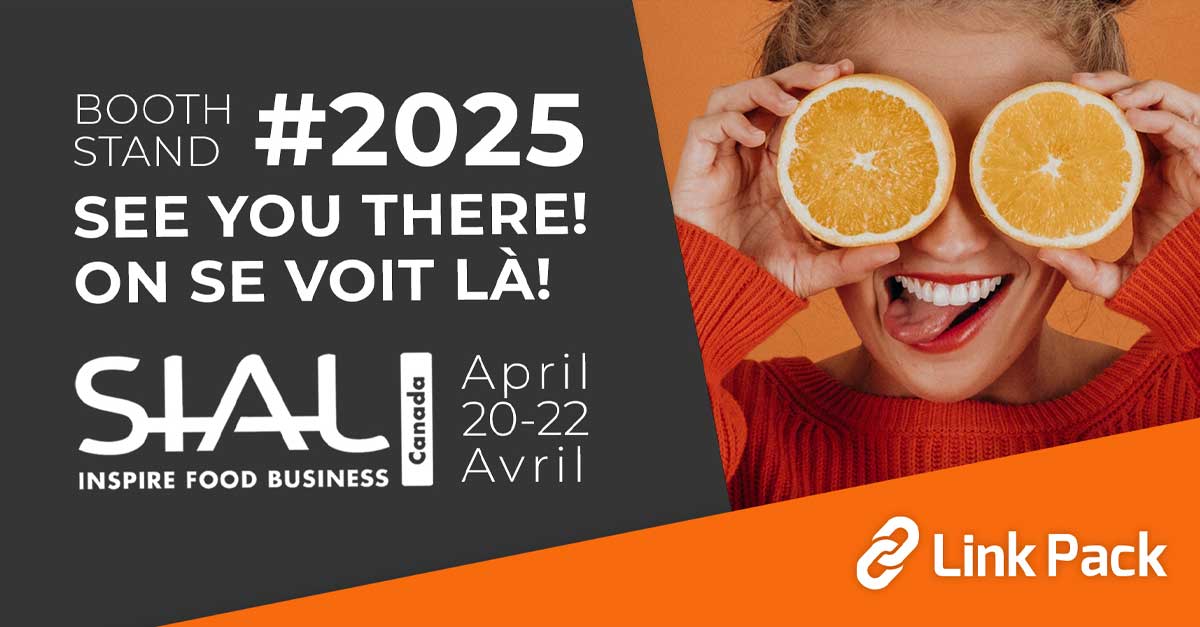 Getting back to "normal", this year's SIAL Canada Show is happening with live attendance at Montreal Convention Centre, and we are looking forward to seeing old friends and new faces!
No food innovation show would be complete without packaging automation specialists – they play a key role in keeping food and beverage safe, fresh and ready for the global market. Packaging automation suppliers will be on sight showcasing innovative packaging technology. This year Link-Pack will be attending with impressive packaging machinery, and a lot of knowledge to share! Stop by booth #2025 for information on food & beverage packaging, and labeling machinery.
If you are a professional working in the agri-food industry, you don't want to miss everything this show has to offer. If it is not already on your calendar, there is still time to sign-up or enter our giveaway to win your 3-day access to the site! 
Just head here and sign up. Get extra chances to win by sharing our contest or signing up to our newsletter! You and a friend, or colleague could get 3-day access to the site, and one-on-one time to discuss packaging automation solutions with our CEO. Badges will be sent out to our lucky guests April 6th, 2022. Best of luck!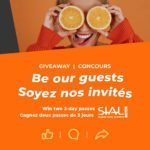 SIAL held its first Show in 1964 and has grown to organize thirteen food innovation networking events worldwide. It is the biggest and most popular agri-food industry and food-innovation event in Canada. The show promises access to over 800 exhibitors from 45 countries and 14,000 buyers from 64 countries – providing the ideal meeting place to see what is new or trending in the industry, to exchange with seasoned professionals and to share your unique perspective.
SIAL Canada provides North American producers access to international markets, and international producers with access to food, beverages, and spirits from the North American market. The trends and innovations conferences will keep visitors up to date with trends in the agri-food business and everything needed to develop business in North America.
What You Can Expect to See
The Canadian Show hosted at the Montreal Convention Centre is a 280,000 sq. ft. hodgepodge of food & beverage products including fresh, organic, local, ethnic offers and non-perishables. There is also a section that includes everything for packaging, supply chain infrastructure and communications, and products and services for retailers and restaurants.
Amidst all the booths and visitors there are also three 3 competitions organized that are must-see:
International Cheese Competition
SIAL is holding its second annual international cheese competition which is bound to attract a crowd. Cheese is an ever-growing industry with the market expected to reach a value of $3.7 billion by 2021 this year!
The biggest olive oil competition in Canada with over 135 oils from 15 countries showcased – the main focus this year is flavor profile.
A unique international competition rewarding the best innovations in food & non-food related products based on 4 criteria: packaging, manufacturing processes, merchandising & recipe.

Dive into the realm of automatic bagging machinery! Discover the most common bagging solut...

Discover the possibilities of durable hemp-based bio plastics and its incredible potential...

With so many factors to consider, it's no wonder choosing cheese packaging machinery can...