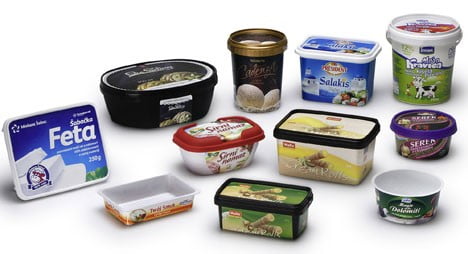 How versatile is versatile?
I was recently asked this question by an artisan yogurt processor who was in the market to buy a new filling and sealing machine for cups to cope with rapid growth.
It seems like the growth in the specialty yogurt category is not about to stop and like any crowded food categories, all means must be used to separate your products from the bunch, including packaging.  For small and medium yogurt processors, it often means to come up with new flavors, recipes and to offer their products in various sizes of container to target segments from single people to families.
The main retail products of this company are sold in 10 oz and 24 oz round preformed cups, but they also have significant volume in larger 1.74-quart oval containers.  Most machines available will accommodate both round plastic cups, but not the large oval container on the same system.  After watching videos of our tub filling machines on YouTube, the customer inquired about another machine to run institutional-size containers.  When I told him the machine in the video was the same we quoted him, he was pretty excited about the possibilities.
The FDS Series of filling, sealing and lidding machines for preformed containers made by Control GMC can be found in many refrigerated food plants across the US and are known for their extreme versatility. The indexing speed and acceleration of our unique conveyor are adjustable to get optimized operation from liquid to thick products, in many containers size and shape. These settings can be recorded and easily recalled through our touch screen interface. The few parts dedicated to size and shape of the containers can be changed without tools, in a matter of minutes.
Another concern of our yogurt processor was the versatility of the closure system for his yogurt cups and for the large oval dairy container.  After filling the fruits and yogurt, the small cups are heat-sealed with a foil and a reclosable plastic lid is applied.  The 1.74 quart has no foil or plastic heat seal, but a robust tamper evident lid. Again, the FDS Series of filling, sealing and lidding machines have been designed to run a wide range of preformed containers, from 8 oz cups to 2 gallon pails.  The machine has a positive pick-and-place lid placer and a fully adjustable roller device to close the lids.  Therefore, we can apply gentle pressure on smaller cups and be more aggressive for pails with tamper evident lids.
The same philosophy of versatility has been applied when designing the range of volumetric piston fillers made by Control GMC.  While different models are offered, the same depositor can be used for dosing a few ounces to gallons whether the products are hot, refrigerated or even viscous with big chunks.  All Control GMC filling, sealing and lidding machines are rugged, fully wash down and come with Allen Bradley PLC and HMI.
About Control GMC
Founded in 1984, the company is proudly manufacturing all its equipment in Montreal, Canada.  Very well-known in the refrigerated food industry, Control GMC is rapidly expanding into other segments such as dairy, hummus, dips, fresh soup, spices, nuts and dried fruits.
Feel free to contact us today to set-up a meeting.  link-pack.com/contact